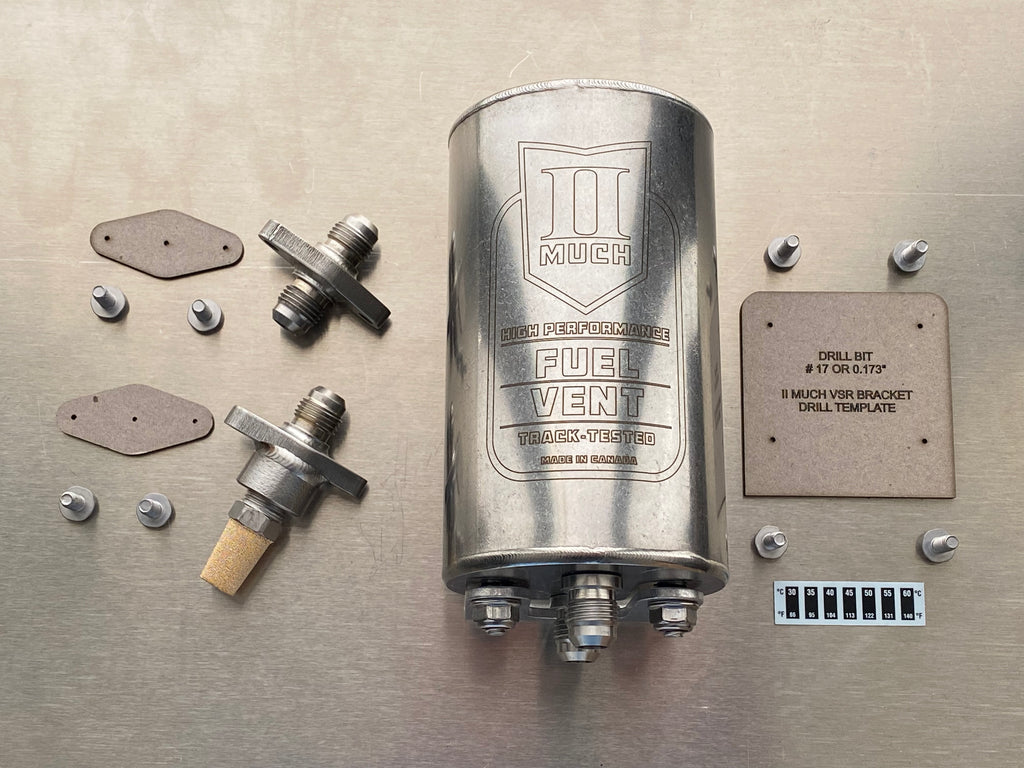 II MUCH VSR Vent System for Fuel, Differential, and Transmission P/N 200024
$259.99
The II MUCH VSR (Vent System, Remote) relocates fuel tank venting from the cap on pre-emission era vehicles which were not equipped with evaporative emissions systems. This provides the following benefits;
Dramatically reduce or eliminate fuel vapor odors
Eliminates fuel spillage and overflows on the track or at the show
Easily meets airflow demands of very high volume fuel pumps, preventing pump failure due to cavitation.
Allows air to exit tank while fueling preventing "burps"
Relocates venting from leak prone vented fuel tank caps.
40 micron air filtration
E85 Compatible
When used for differential housing venting it provides the following benefits;
Eliminates gear oil spillage
Reduces gear oil odor
Prevents pressure buildup inside housing which can push lubricant past axle seals, especially important in floating axle arrangements.
Includes;
304SS AN6 to AN6 bulkhead fitting

303SS AN6 to 1/4 NPT female bulkhead fitting
40 Micron bronze filter, 1/4 NPT male.
Mounting Bracket, 6061 Aluminum
Mounting hardware, 18-8 Stainless Steel
Temperature indicating decal
Installation Instructions
EMISSIONS WARNING: This product is not a legal substitute for factory installed evaporative emissions equipment.
WARRANTY: This products is warranted against defects in material and workmanship for one-year from the date of purchase. If, within one year, you find this product to be defective, return the product to us and we will –at our discretion – either repair or replace it at no cost to you. This warranty is your sole remedy in the event that the product fails in any way. We hereby also disclaim all liability for incidental or consequential damages arising from the use of this product.
Installation
Fittings
The II MUCH VSR ships with AN6 on all connections. Hoses with -6 female ends are all that is needed to plumb it.

FAQ
Can II MUCH vents be used to replace an evaporative emissions canister?
No, this would violate the Clean Air Act, and is against the law.
Do II MUCH vents contain activated carbon or any items requiring maintenance?
No, there is no charcoal in the unit or items requiring maintenance.
Is it compatible with E-85?
Yes, Its compatible with properly stored E-85, but not aged and contaminated fuel.
Will this eliminate the fuel odors in my car or garage?
Most customers say the odor has been eliminated or dramatically reduced. The installation instruction go into detail about this.
What is that port on the bottom of the canister?
Look at the "Fittings" tab on the product page for examples available to purchase from II MUCH.
Can I use one unit for both fuel and differential?
No, this would cause gear oil and fuel to mix.
How high does the unit need to be mounted?
Enough that fuel in the vent line will eventually drain back into the tank via gravity.
Does the filter on the bottom of the unit need to be replaced?
No, but it should be inspected and cleaned with carb. cleaner periodically.
Is there a roll-over valve in the unit?
No, but we recommend gravity style as they don't restrict airflow the way one or two way check valves do.
What is included with the unit?
The first page of the installation instructions lists everything the unit ships with
Can I mount the unit sideways or under my tank?
No, please read the installation instructions for more details.
Why can't I buy this outside of Canada or the USA?
We're working on this, but its not an option yet.
Why can't I buy II MUCH products from Summit Racing anymore?
Summit is great, but we are focused on selling direct during COVID-19 due supply chain disruptions.
Gallery
Related Products